The sandy Atlantic shore of the Costa de la Luz (Coast of Light) is a world apart from the more commercialized Mediterranean coastline and is a great favourite with the Spanish. Stretching from Gibraltar to the Algarve border, restrictions on development have meant that some of the finest beaches in Europe are totally unspoilt. Our aim is to find you your dream home, at the best possible price, in this wonderful unspoilt part of Spain.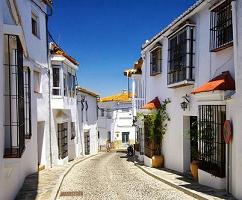 For more than 150 kilometres you pass only a dozen or so hotels and a few traditional coastal towns and villages, yet you are close to some of the most fascinating cities in Europe. Although the vast, often deserted beaches are a sufficient attraction, this area of Andalucia is steeped in history and culture. The wonderful cities of Cadiz, Jerez and Seville are close by, as are the hilltop towns of Vejer and Arcos.
Although other Europeans have been coming in small numbers to the Costa de la Luz for a few years now, the area has never been spoilt by mass tourism. The attractions of the Costa de la Luz are simple; friendly people, beautiful scenery and fine sandy beaches aswell as delicious food.