Conil is a small, lively beach town to the south of Cadiz, and near inland Vejer de la Frontera. It has a great atmosphere in the evening, with plenty of good tapas bars and excellent nightlife. It is a pretty, well-maintained town which is as ideal for a family stroll among the old streets, as for young people on a night out.
During the summer season, its streets are busy from the afternoon, when people visit the cafes, through the evening as people eat out, and well into the night. After dinner, many people, especially families with young children, go to ice cream parlours where they sit outside on the terraces enjoying their desserts and coffees.
Many young Spaniards from Seville and other cities come to Conil for their holidays, and it is also popular for Andalucian stag and hen parties. But don't let this put you off – Conil is not over run. Join in the fun, and be surprised by this largely unknown seaside village.
To visit the town, the best plan is to leave your car in the car park on the seafront and walk into the old town, heading first for the Torre de Guzman and exploring the narrow streets around it.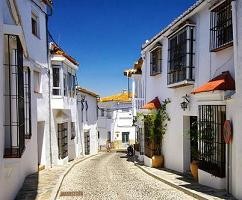 CONIL'S HISTORY
Conil's history dates back to Phoenician times, when they used it as a fishing port. In the Roman era, it was on the Via Herculea, which connected Malaga and Cadiz. In 1299, after the re-conquest from the Moors, King Fernando IV of Castille ceded the town (along with neighboring Chiclana) to Guzman El Bueno as a reward for defending Tarifa in 1292, so that it could be fortified and repopulated. The town flourished thanks to its fishing industry, and later also agriculture and livestock farming. Like many towns in the area, it was occupied by Napoleon's forces in the 19th century, and today its main sources of income are still agriculture and fishing, although tourism is becoming increasingly important. Its puerto pesquero (fishing port) is to the north, around the curve of the bay, next to the lighthouse.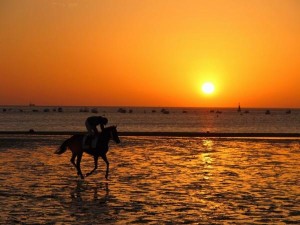 THINGS TO SEE
There are some historical monuments worth visiting:
Torre de Guzman – this short, squat tower is all that remains of a castle built by Guzman El Bueno, the town's official founder. It was part of a defense system for Conil, which also included murallas (town walls) to fortify the town and fishing area. The only other remaining towers are Torres Roche and Castilnovo.
Church of Santa Catalina
Convento de la Victoria – featuring interesting paintings
Convento de San Francesco de Paula




FIESTAS
Conil has many official fiestas: the romeria de San Sebastian, on the Sunday nearest to 20 January; the spring feria, El Colorado, in the first week of June; traditional seaside festivals of Noche de San Juan and Virgen del Carmen; the town's patron saint, Nuestra Señora de las Virtudes, is celebrated around 8 September; Los Pajaritos on 31 October.
The tuna fishing industry, using the ancient almadraba system, is still important here; the season is April-June and July-August. In May/June is the Ruta del Atun de Almadraba (also celebrated in surrounding towns such as Zahara de los Atunes and Barbate), when many restaurants offer special tuna dishes.
WHERE TO STAY